White Ribbon Day and 16 Days of Action 2022
We believe that everyone has a right to live in a safe place, without fear. We are fighting to end domestic violence and abuse against women, children and men. Domestic violence or abuse is used by someone you know to control or take power over you. This can include physical, sexual, psychological, verbal, emotional and financial abuse.
To commemorate White Ribbon Day this year, which coincides with the start of the United Nations 16 Days of Activism against Gender-Based Violence,
25 November is the International Day for the Elimination of Violence Against Women, also known as White Ribbon Day. 2022 Theme is Elimination of Violence Against Women and Girls. From that day until 10 December are the 16 Days of Action. We have committed our support to raise awareness of these two important campaigns and help people get the support they need.
White Ribbon Day is Friday 25 November 2022. Each year thousands of people stand up, speak out and say no to violence against women.
You can help to raise awareness by:
Wearing a white ribbon and showing your support
Being active on social media. You can follow the White Ribbon Twitter page and spread the word using #WhiteRibbonDay #MakeThePromise #TheGoal
Joining us on our White Ribbon Walk, Thursday 1st December 2022, 3.30pm-5pm at Birkenhead Park to reserve a place a place visit.
Wirral's town halls will unite with landmarks across the globe, glowing orange on November 25, the United Nations Day for the Elimination of Violence Against Women and Girls. 
Cllr Yvonne Nolan, Chair of the Adult Social Care and Health Committee - and Wirral's Domestic Abuse Champion explains why we illuminate our buildings.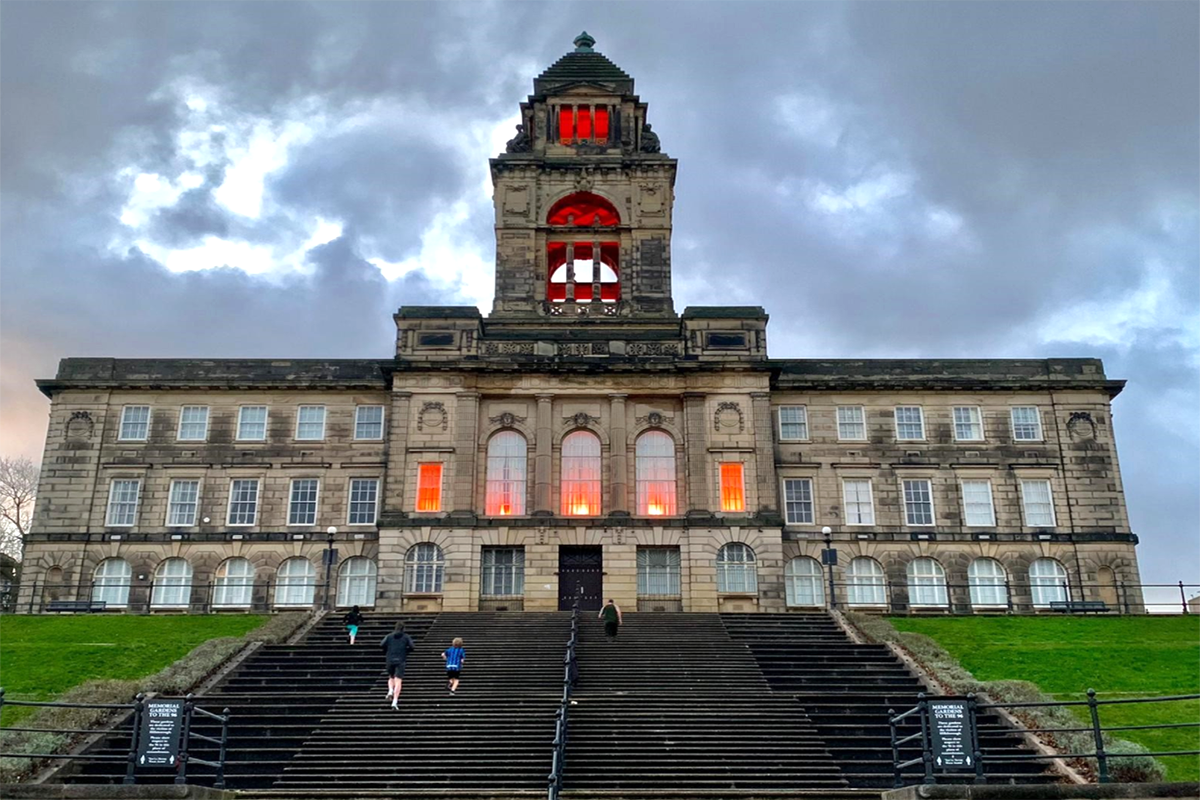 Wallasey Town Hall lights up in orange on the evening of White Ribbon Day (25 November 2022).
16 Days of Action
We are taking action against domestic abuse and violence. From 25 November to 10 December 2022, we will be supporting the 16 Days of Action campaign by highlighting the support available from local and national organisations.
Below are a number of events taking place over the 16 Days of Action campaign:
16 Days of action 2022 events
Itsneverokwirral.org will be updated daily throughout the 16 days.
Tranmere Rovers Football Club wore orange T-shirts with the 'Domestic Abuse No Excuse' logo on during their home match on Saturday 19th November.
The Wirral Domestic Abuse Alliance and the Wirral Safeguarding Children Partnership are also launching their Wirral Tackling Violence Against Women and Girls strategy on the Wirral Safeguarding website on 1st December 2022. 
We provide support and advice
To find out more about how to spot the signs of domestic violence and abuse, please visit the What is domestic abuse? page.
If you or someone you know is a victim of domestic abuse you are not alone and we can help. We work with partners and survivors to offer valuable help and support where is it most needed. We want to help those at risk of domestic abuse and provide specialist support and advice to help put a stop to it.
For more information on the domestic violence and abuse support services.