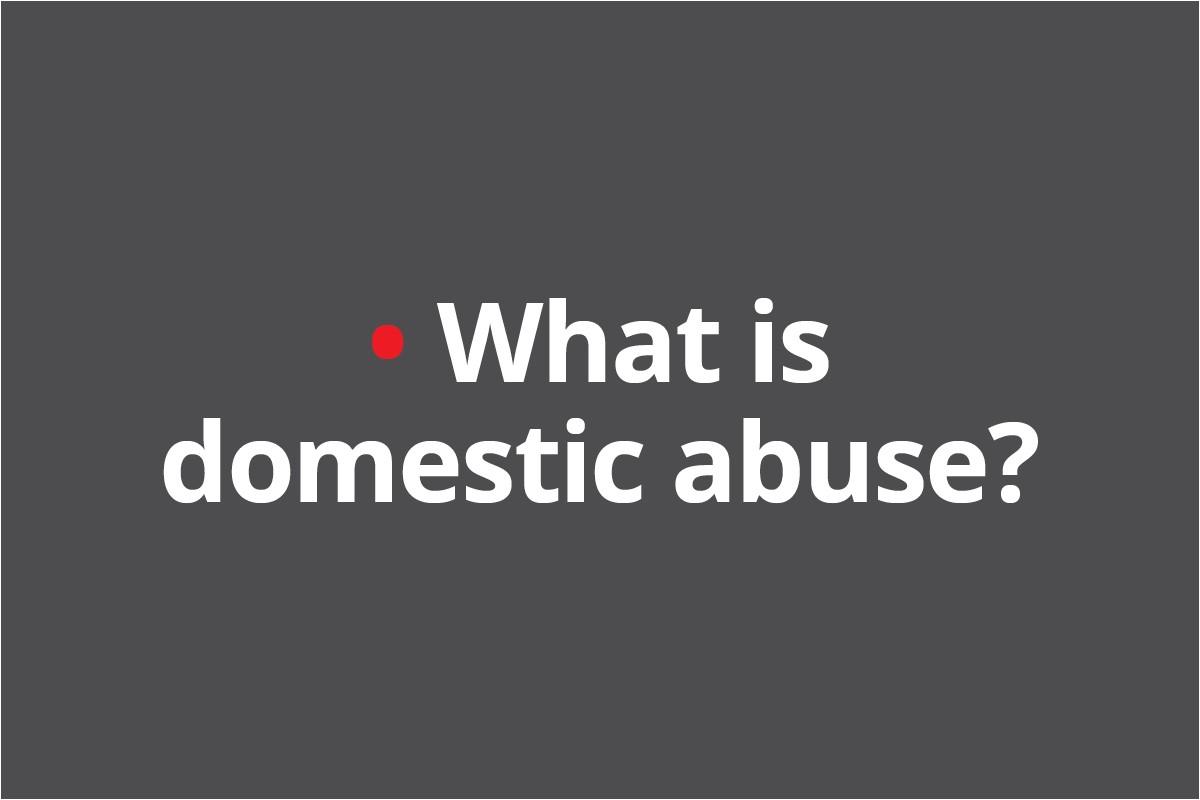 Domestic abuse is any incident or pattern of incidents of controlling, coercive or threatening behaviour, violence or abuse between those aged 16 or over who are or have been intimate partners or family members, regardless of gender or sexuality.
Domestic abuse isn't just physical; it can be psychological, sexual, emotional or even financial and can include:
Being forced or pressured to do things
Being frightened to say 'no' or to have an opinion
Feeling like 'walking on eggshells' all the time
Being watched and checked up on
Having freedom unreasonably restricted
Being stopped from seeing family and friends
Limited or no access to money and other resources
Forced marriage
Violence, including so-called 'honour-based' violence
Female Genital Mutilation
Sexual abuse
Being threatened and threats made to family, pets and/or possessions
Being made to feel too weak or frightened to fight back or leave
Destructive criticism
Disrespect and breaking trust
Isolation
Harassment
Anyone can be abused, no matter where they live or how much money they have.
It can affect anyone, regardless of race, age, class, gender, religion or sexuality. It happens in all kinds of relationships: heterosexual, lesbian, gay, bisexual and transgender.
Domestic abuse is not the victim's fault. Help is available for victims & survivors and for perpetrators.
The signs of domestic abuse
While every domestic abuse case is different, there may be tell-tale signs that indicate abuse is taking place. These include:
Injuries – Bruising, cuts or injuries or walking stiffly or appears sore. These injuries may come with explanations that don't fit with the description.
Excuses – the victim may excuse their injuries by claiming they are clumsy or give the same explanation each time.
Stress – displays physical symptoms related to stress, other anxiety disorders or depression, such as panic attacks, feelings of isolation and an inability to cope. They may even talk about suicide attempts or self-harming.
Absent from work - often off work, takes time off without notice or is frequently late.
Personality changes – the victim's personality may change when they are around their partner, appears to 'walk on eggshells'; they may be jumpy or nervous.
Low self-esteem – low self-esteem or lack of confidence regarding their relationship or life in general and may seem sad, cry or be depressed.
Lack of opportunity to communicate independently – perhaps their partner talks over them or for them. Their partner may appear controlling or regularly belittles the victim.
Self-blame – may take the blame for anything that happens, whether it's at work, with the kids or with friends. They may blame themselves for the abuse.
Lack of money – never seems to have any money because their partner is withholding money to control them.
Stops socialising – makes excuses for not going out with friends or suddenly pulls out of social gatherings at the last minute.
Partner displays irrational behaviour – their partner is jealous, irrational or possessive. Their partner may accuse them of having affairs, flirting or may read their emails, check their phone or constantly phone to check up on them.
Unwanted pregnancy/termination – pregnancy often triggers the start of domestic abuse. The victim may be unhappy at being pregnant, not wish to continue with the pregnancy, or be forced into having a termination.
Substance abuse – may use alcohol or drugs to cope or even prescribed drugs such as tranquillisers or anti-depressants.
Damage to property – there may be damage to the home or even harm to pets.
Unwilling to give out personal details – may not give friends and colleagues their address or telephone number and may insist that they make the contact to prevent someone turning up on their doorstep.
The impact of domestic abuse
High numbers of women, and many men, will experience domestic abuse in their lifetime. The impact of domestic abuse on the victim and on children, even once they have achieved safety, is severe and long-lasting.
Despite a longer-term reduction in domestic abuse, an estimated two million adults report being subjected to domestic abuse  and, tragically, 82 women and 13 men were killed by a partner or former partner in 2016/17 .
A study by SafeLives suggests that 52% of children who witness domestic abuse experienced behavioural problems and issues with social development and relationships; 39% had difficulties adjusting to school and 25% showed abusive behaviours when they were no longer exposed to abuse. Evidence also shows that adults who witnessed domestic abuse as a child in their home were far more likely to experience abuse by a partner as an adult (34% compared with 11% who did not witness domestic abuse). 
For many people domestic abuse is seen as a 'taboo' subject; it isn't easy to talk about. People often ignore the signs. People also tend not to get involved. No matter how much the abuser blames the victim – no one deserves to be abused. There are many reasons why victims don't seek help – fear; lack of confidence; low self-esteem; cultural, family or religious expectations; etc.; many are too young or old to seek the help they need. It is everyone's responsibility to have a zero tolerance towards domestic abuse and find out what you can do to help.
Domestic abuse in Wirral
Wirral Domestic Abuse Alliance is committed to tackling domestic abuse in Wirral. The 2020 Wirral Plan sets it out loud and clear – we have zero tolerance to domestic abuse. We want to stop abuse and improve the health and wellbeing of individuals and families who experience it. We want to see local residents and communities free from violence by decreasing the social tolerance and 'acceptance' of domestic abuse. 
This graph shows incidents of domestic abuse in Wirral reported to Merseyside Police over the past year.  This shows an increasing trend, which is in part due to the work through the Zero Tolerance to Domestic Abuse Pledge to raise awareness of this issue. This increase is also a key driver for further activity by Wirral Domestic Abuse Alliance, underpinned by a strong message that such behaviour is never ok.